Avatars/pt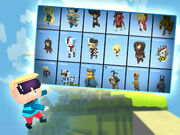 Avatares são construções feitas pela comunidade. Eles o representarão em jogos e projetos e são muito personalizáveis. O tipo mais comum de avatares são personagens existentes de quadrinhos, videogames, filmes e outras origens; mas personagens originais ou até objetos que não são pessoas, seguindo a criatividade dos jogadores sem ultrapassar os limites de blocos, também existem e são bastante prevalentes. Quando você está registrado, você tem apenas 1 slot disponível, mas pode obter mais slots clicando no sinal "+" no canto superior esquerdo, onde é possível selecionar qualquer um dos avatares padrão. Todos eles custam 140 de ouro. Avatares Premium custam 100 em ouro.
Da esquerda para a direita: Block Boy, Sword Girl, Panda, Robot, Mr. Chang and King of Fire.
Da esquerda para a direita:Santa's Helper, Santa, Croc, Soldier, Monster, Purple Girl (Sandy);
Walker, First Michal (Claws), Robotic Hero, Bionic Pinguin, Skeleton, Zombie, Brown Boy (Purple Block Boy).
Na seção Loja é possível ver as criações da Comunidade. Você pode vender e comprar avatares comprando-os, custando 140 ouros. Toda vez que um de seus avatares é vendido, você recebe 14 de ouros. Isso representa 10% do custo da compra.