Friendship Festival Contest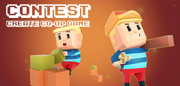 The Friendship Festival Contest is a contest announced on January 21st. This contest is about creating a game that showcases a co-op experience.
Create a co-op game that showcases a co-op experience. A game that can only be completed if you work together. A game where you explore together? The imagination is up to you.
Originality: Is the game original?
Fun: Is the game fun?
Co-op factor: Does the 'co-op' part fit well into the gameplay?
Send it here: https: //goo.gl/forms/o7FE3fqspwhngByO2.
February 17th. Date for announcing the winners will be revealed at a later time because the staff needs time to play all the games.
Top 5 (chosen by staff): 6000 gold shared among game members.
Be featured on the front page for at least 2 weeks.
TBA.