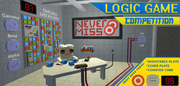 The Logic Game Competition was a contest hosted in 2016 by Jatsu on the Friends server. The goal was to create a logic game with new logics. It was announced at news: https://friends.kogama.com/news/176/
Competition Rules
[
]
You must post a comment to this news feed with a link to your published game!
Your game must be new and published after this date. Pre-made projects are not eligible.
Your game may only have up to five members (not including the owner).
Your game must include at least one visible Lever, Shootable Plate, and Counter Cube object.
The competition duration is between December 31st, 2015 and January 7th, 2016.
Prizes
[
]
Winners
[
]