About
[
]
No texture was a block that was used by the Developers for testing purposes.
Discovery
[
]
When the players modified the game, they could access the block and discovered somewhere in 2013.

Appearance
[
]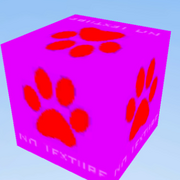 It has a neon-pink background with a red footprint of a dog with "NO TEXTURE" at the bottom with the 2012 KoGaMa font
Temporary fix
[
]
In late 2020, the texture in-game was changed into the Khaki texture. Nevertheless the texture is not removed in the files (yet).