Themes are used to customize the world's Skybox without using Skybox Cubes. Themes have a much wider array of options and customization than their counterpart, which can make your game unique, but keep in mind that it can wear on the performance of your game significantly. There are different styles of themes to choose from, ranging from basic to more festival-themed ones, with each needing a specific Level to unlock.
It costs 100

for the Game Owner on WWW and BR to make a Theme active on your current world, and free for Elite Subscribers. The purchased Theme will only be active on the current world, and only one single Theme can be active in the world. If you want to change the world's Theme, your current Theme will be removed and lost. If you do not own an Elite subscription, it is advised to not remove your theme or set up a new one.
Customization
[
]
There are 7 different styles that you can choose for your game. Their price remains the same for each and all of them, 100

.
All themes are entirely customizable, options can be changed such as:
The sky color
Size of clouds
Size of the Moon
Size of the Sun
Size of stars
Star blinking speed
Note: By purchasing a theme, all Skybox Cubes will be disabled and you will not be able to place them anymore until the current set Theme is removed.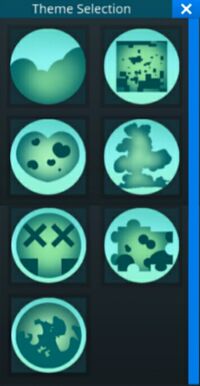 Translations
[
]